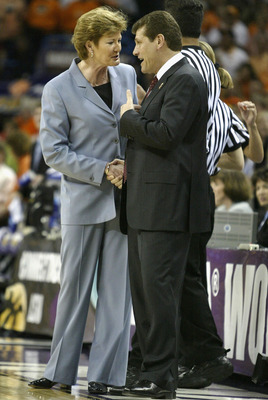 Who: The coaching titans of women's college basketball, Pat Head Summitt of the Tennessee Lady Vols and Geno Auriemma of the Connecticut Huskies.
Why: The greatest personal rivalry in all of sports is not fought in the trenches of a football field, between the lines of a tennis court, or bumper to bumper on asphalt. That rivalry is played out on the sidelines of college basketball courts in Knoxville and Storrs, and in the media that flocks to those places. That's because the universe of women's college basketball rotates around just two well-tailored stars. On Tennessee's side is Summitt, the winningest Division I basketball coach (male or female) of all time. Summitt is intense but polished, the Maggie Smith of the hardwood. On UConn's side is Auriemma, the best coach of the last 15 years. Auriemma is provocative and unpolished, the kind of person likely to chuck a firecracker into a room just to watch people scatter. Needless to say, they don't always get along; at one point Auriemma called Tennessee "The Evil Empire." What they do is win, often at each other's expense. Between the two, they have 15 national championships, 8 for Summitt and 7-going-on-8 for Auriemma. They have 5 of the sport's 9 perfect seasons, and Auriemma could make it 6 of 10 if his current record-setting 89-game winning streak continues. Auriemma has beaten Summitt in 13 of their 22 meetings, including 4 national championship games. When they meet, the sports universe stops and watches girls play ball.
Impact: Which makes it all the more tragic that they don't any more. After their meeting in January 2007, Summitt called off their annual series, and they haven't faced each other since. The conflict was apparently over Auriemma's tactics in recruiting current Husky powerhouse Maya Moore, but Summitt has never confirmed this. Both coaches got into the Naismith Hall of Fame in part based on their epic clashes, and neither seems interested in showing us why. More's the pity. If there were a UConn-Tennessee game on this week, I would show you what basketball is.
Personal Connection: I've never seen either coach in person, but as a fan of the WNBA's Seattle Storm, I've been the recipient of gifts from Auriemma and Summitt for a decade. With Aussie legend Lauren Jackson, the Storm is anchored by UConn point guard Sue Bird, alongside former Husky teammates Swin Cash and Svetlana Abrosimova and Tennessee star Ashley Robinson. Along the way, Bird and company have brought Seattle two WNBA championships, making the team the most successful pro franchise in city history. Without Summitt and Auriemma, maybe we're just the city that misplaced our NBA team. Thanks to them, we have basketball pride.
Other Contenders: Tex Winter, the originator of the triangle offense that gave Phil, Kobe, and Michael all of their rings; Sam Wyche, whose insane no-huddle offense drove the Cincinnati Bengals to Super Bowl XXIII… in which they were beaten by San Francisco 49ers guru Bill Walsh, whose West Coast Offense drew a blueprint for modern NFL success; Ozzie Guillen, who gets in not on his delightful White Sox championship, but rather his delightful lack of self-censorship; Smokey Yunick, who combined a mastery of physics and a willingness to be the cheatin'est crew chief in NASCAR; Reggie Dunlop, the player-coach who guided the Charleston Chiefs to a Federal League title by playing old time hockey.