What: Illustrator Ralph Steadman's acid-trippy version of Lewis Carroll's classics Alice's Adventures in Wonderland and Through the Looking Glass, first published in 1967 by Dennis Dobson of London, then alongside The Hunting of the Snark as The Complete Alice in the definitive 1986 Jonathan Cape version.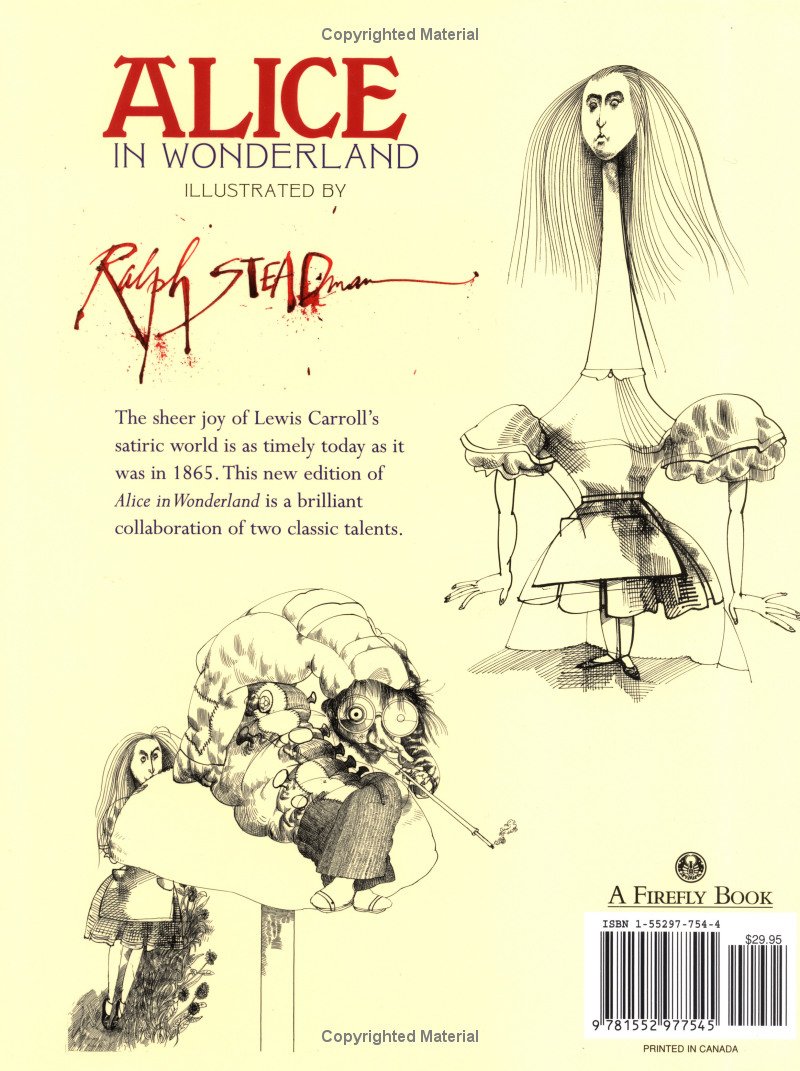 Why: A youthful and enthusiastic commercial illustrator in the mid-1960s, Ralph Steadman convinced a completely sane publisher to let him take a crack at the children's book Alice in Wonderland. Except Steadman knew Alice in Wonderland wasn't a children's book, and that children were about to be very different than parents of the day expected them to be. So Steadman crafted a work of psychedelia as mind-bendy as anything Moby Grape was dropping on San Francisco. Everything in seen Steadman's Wonderland is not quite right: the Cheshire Cat has tuned in, turned on, and dropped out; the playing cards are about ready for a dock strike; the Mad Tea Party could easily morph into an SDS meeting; and lord knows what the Caterpillar's been smoking. Steadman took it as far from the Disney cartoon as it could go, which I'm sure Carroll would've preferred. If little Alice Liddell grew up and went to Berkeley, this is what her life would be like.
Impact: Alice made Steadman the most popular illustrator of the acid generation. He formed a friendship with fellow gonzo Hunter S. Thompson, whose hyperjournalistic works he illustrated to perfection. He continued his lucrative commercial work in his eclectic style; I expect a bottle of Steadman-labeled Bonny Doon Cardinal Spiced Zin would not be appropriate for certain functions. But mostly he just painted whatever was on his mind for the next half century, and what his mind was on was always in question.
Personal Connection: I don't actually like drugs at all, but despite that, this is my Alice. I got Steadman's book as a child and have never wavered from dubbing it the only Alice that matters. But I always like it when Carrollinians of all types venture into this psychedelic territory. There's the Jefferson Airplane's "White Rabbit", of course, and Tom Petty's genre-defining music video for "Don't Come Around Here No More". And just this weekend, director Tim Burton took his trip down the rabbit hole. I'm particularly delighted with this last one, since Disney Interactive asked us to write the riddles for their Alice in Wonderland iPhone game. If I had to define the phrase "my dream project," I could do no better than Alice + Burton + riddles + iPhone. (See the comments for the most beautiful day in Wizards of the Coast history.)
Other Contenders: artist Robert Indiana's LOVE Christmas card, the design that launched a thousand skateparks; Tommy James & the Shondells' floaty "Crimson and Clover"; Vanishing Point, a movie about the pointlessness of chasing anything (Guns 'N Roses fans: watch this); the fab pre-Blue Meanies train wreck that is the Beatles cartoon; Mati Klarwein's 1961 collage Annunciation, used years later as the cover art for Santana's must-listen Abraxas album; Jimi Hendrix's entire catalogue, of which I'll offer "Little Wing" as an example; Le Flashbic, the infectious pas de deux of the pangolins Bic and Bac from the French cartoon Spartakus and the Sun Beneath the Sea.